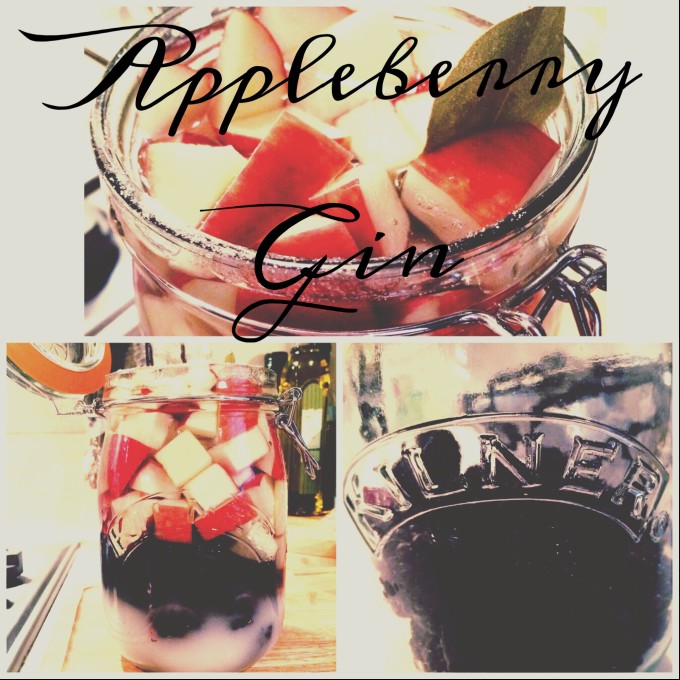 I'm going all out this year for Christmas – playing host for the big day has got me whiling away hours on Pinterest looking up unique ideas for DIY decorations, food and drinks. I love the idea of giving homemade gifts this year  – with myself and D on a 'saving for the wedding' budget it's lovely to be able to give someone a thoughtful gift without having to spend the earth.
On my internet browsing travels, I came across this fantastic recipe for a festive spin on my beloved gin – I'd wanted to experiment with Sloe Gin but didn't give myself enough time (it takes about a good couple of months to make). This recipe however, from the lovely Larder Love blog, was perfect – in only 4 weeks I could have homemade Apple and Blackberry gin to serve as a post-Christmas lunch tipple for the family.
I've called it Appleberry Gin (see what I did there…!)
To make this you need a few simple ingredients and minimal kitchen appliances. For a standard 70cl bottle of gin, you will need the following amounts. If you want to make half this amount, just half the ingredients.
INGREDIENTS 
225g blackberries (frozen or fresh)
225g apples (I used Pink Ladies but you can use any)
Around 700ml of gin (I used Gordons as it's one of my favourites but you can use supermarket one which is a cheaper alternative)
200g of caster sugar
1 bay leaf
EQUIPMENT
A large jar (holds around 1 litre of liquid) – I recommend the Kilner jars which are really affordable and hold the quantity perfectly
*Make sure you sterilize all your glassware before using – see here for how to sterilize if you aren't sure*
Scales to measure your fruit and sugar
Knife to cut your apples
A strainer (for when the gin has finished after 4 weeks of fermenting)
METHOD 
Measure out your blackberries and roughly chop your apples (don't worry about peeling them, just roughly chop into small cubes)
Pour out your gin so you have the correct amount
Pile/layer all ingredients into your jar – blackberries, then apples, then sugar and pop your bay leaf in there too…
Once everything is layered up nicely, pour over your gin (the sugar will immediately settle at the bottom so give it a real good shake).
 Et voila! It's literally that simple. You now need to leave this in a dark cupboard for 4 weeks and then once it is ready, and a lovely purpley colour, you strain the drink into lovely little miniature bottles and label up for gorgeous homemade presents for fellow gin lovers.
You can drink either as a shot of fruity gin, have over ice in a whisky tumbler or drink with tonic for a twist on the usual G&T. It will keep for ages too.
Let me know if you have any other DIY Christmas ideas this year?
LMNH x